As for your interior design, DIY ideas are always cool. So, if you want to decorate your windows with stylish curtains, why not try to make them by hand? We are sure that no-sew curtains in the farmhouse style can be a great idea if you are a fan of DIY projects!
In this easy tutorial, we will share 2 ways to create DIY drop cloth curtains with no sewing options.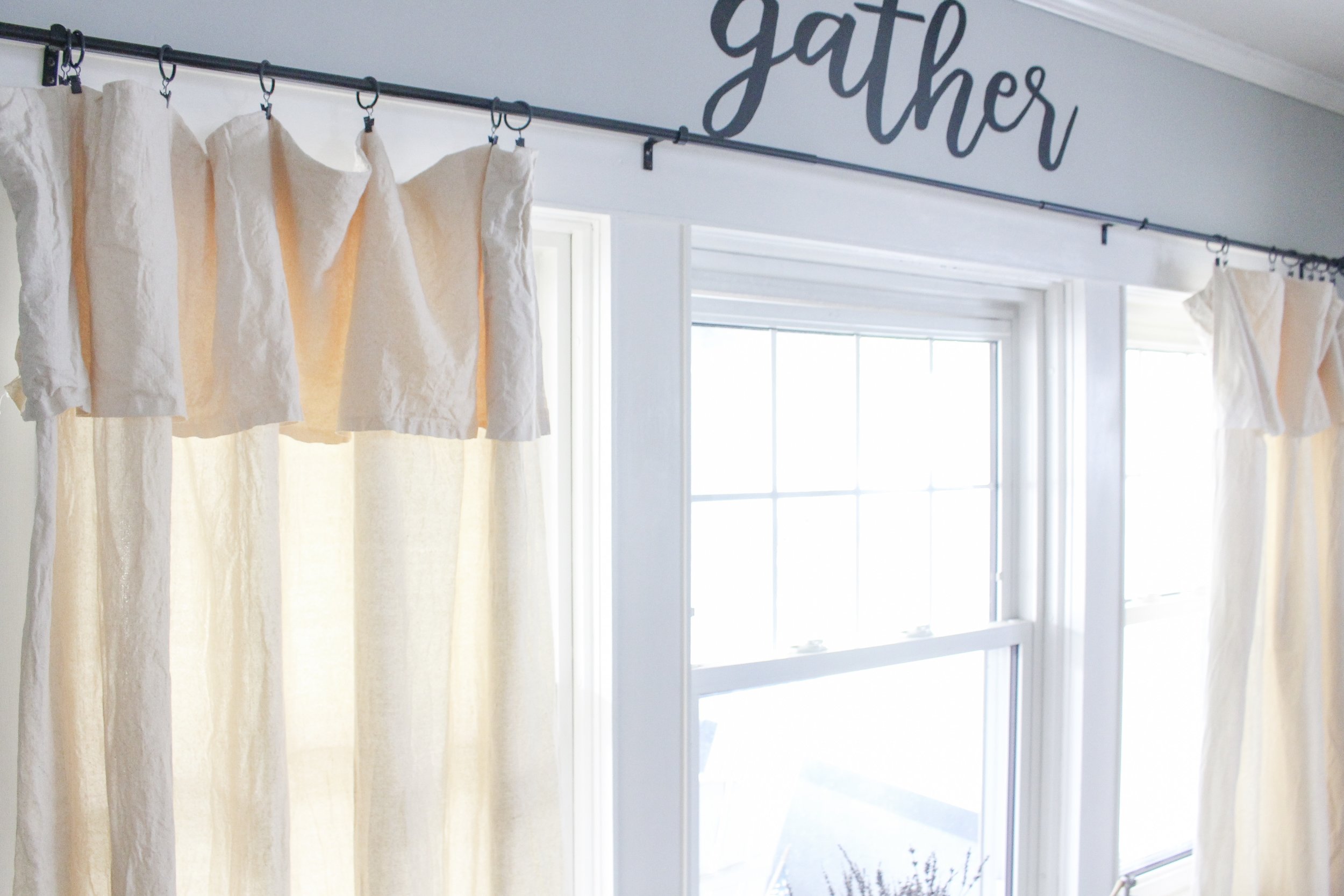 Why should you make DIY drop cloth curtains?
If you still hesitate about having drop cloth curtains hang in your home, here are several points for them:
No-sew options
Stylish and natural look
Super versatile look for many decor styles
Go best for big windows
Easy to hang and remove
Easy estimated cost
Easy to clean and wash
100% cotton drop cloth curtains can be bleached
As you can see, the drop cloth curtains have lots of positive points. Try to decorate your beautiful room with a piece of farmhouse aesthetics, and you will absolutely love it!
Cotton curtains: pros and cons
Points for
As the 100% cotton fabric has a lovely farmhouse-style look, it is a good idea to use it when you make drop-cloth curtains.
One more positive side of 100% cotton is that you can bleach it. The bleached cotton fabric gets a nice soft white color. However, the original color is still lovely and stylish! And anyway, these curtains will look nice with the white trim on your interior.
In addition, if you buy the super large 9′×12′ drop cloths, most of them have a seam. So, you don't need to hem the edges.
Points against
The only drawback of the cotton curtains is their shrinking. Yes, this cloth is prone to shrink when washed in the hot water with detergent.
So, if you decide to make cotton drop cloth curtains, a good rule of thumb is to wash the cloth first and double-check if it shrinks. However, you would rather not waste your time doing all these things, just opt for some other naturally look fabrics.
What DIY drop cloth curtain supplies do you need to have?
For your DIY project, you need a minimum of items. Just look at this budget-friendly list of materials and tools, and you will understand that it is insanely simple and cheap to do.
Note that you need neither a sewing machine nor a needle with thread to make drop cloth curtains!
Materials
2 canvas drop cloths
Hemming tape
Curtain rod
Curtain ring clips

Tools
Scissors
Tape measure
Iron
When buying these supplies, make sure that the curtain rod and ring clips are the right size and fit each other perfectly.
Choose canvas drop cloths of any neutral color if you want to make them maximum versatile.
Keep in mind that you need 2 panels of curtains, so buy 2 canvas drop cloths.
If a curtain rod is not already up, you may get some extra tools in the hardware store to fix it in place.
What size drop cloth do I need for curtains?
To make your own drop cloth curtains, you need to have drop cloths of the right size. So, the exact size of a drop cloth per panel is 6×9 feet canvas drop cloth.
One of the best things about drop cloth curtains is that you can customize their length due to the size of your actual window.
To adjust the drop cloth curtains, you can simply fold them to the desired length.
How many clips do I need to hang drop cloth curtains?
In fact, there is no exact answer to this question. The amount of ring clips you need depends on the size of your window. For a smaller window, you need fewer clips than for a bigger one.
On average, you can start with 7 clips for a 6′ curtain panel. Then, if you feel like having more, you can add some clips. This will help you to make drop cloth curtains look fancier.
To hang drop cloth curtains, you need to have a curtain rod with some ring clips.
Make sure you have already assembled the clips on the curtain rod before you fix them in place, or else you will have trouble with getting them on here.
Using the ring clips, you make it super easy to take the curtains down. In addition, you can wash and dry them any time you needed.
As the clips come in a bulk, you can always have some extra clips to add or change if you need.
Are the curtain clips safe?
If you still doubt if the curtain clips are safe enough to hold drop cloth curtains with no damage, the answer is "yes"!
In fact, the drapery curtain clips are an excellent option. If you are afraid there are not enough clips to hold your curtains, add some more clips to keep them stronger.
Don't worry that curtain clips can damage your curtains, as the cloth is not so heavy to make a lot of tension and tear the places with the fastener clips.
How to create DIY drop cloth curtains with no sewing?
As you can guess, the no-sew drop cloth curtains don't require many difficult steps to take. In general, all that you require is to measure, cut, hem, and hang the curtains in places!
1. Determine the size
Before you start, measure the size of your window with the flexible tape measure.
The first thing you should consider is the width of your window. Keep in mind that your DIY drop cloth curtains should be at least equal to the width of your window.
However, a great idea is to have the drop cloth curtains a bit wider. You can make them about 6-12″ wider than the actual window width. This will help you to keep the window fully closed much easier.
Then, determine the height of your drop cloth curtains. It depends on what height you want them to be. You can opt for the height of your window, floor to ceiling, or just window trim to the floor. If you have tall ceilings, the choice is the most varied.
When you determine the desired size of DIY drop cloth curtains, make sure that your drop cloth is at least the size of your curtains' final dimension.
So, trim and hem the drop cloth to the exact size you wish. You can leave some allowances for better effect, so you can correct flaws in the process.
Click here for an Advanced Guide on Standard Curtains.
2. Prep the drop cloth
A good rule of thumb is to wash the drop cloth before working with it. You need to double-check if the desired length is correct, as the cloth may shrink after washing.
Wash and soften the drop cloth, and let it air dry.
As you need two panels of drop cloth curtains, you need to wash both of them, as they may become different lengths.
Then, iron the drop cloths, if you prefer to do it. If you find it heavy-duty, just let the drop cloths dry.
3. Adjust the drop cloth to size
The no-sew curtains are one of the most popular DIY projects, as they don't require any sewing.
Measure your drop cloths and decide the length and width of your curtains. It mainly depends on your taste and the room where you are going to place the drop cloth curtains.
For the dining room, living room, or bedroom, you can use the floor-to-ceiling length, whereas the kitchen window requires a much shorter length of curtain.
Remember that you should measure only the washed and dried drop cloths! Or else, they will shrink after the next washing, and you will be drastically upset with their new size.
If you want to make some pooling at the bottom, add 2-3 inches to the floor measurement.
Now, focus on the edges. You are lucky if you buy the drop cloth with a seam. However, if you have the raw edges, you need to hem them.
Don't forget that you must place the curtains turned inside out to hem the edges correctly!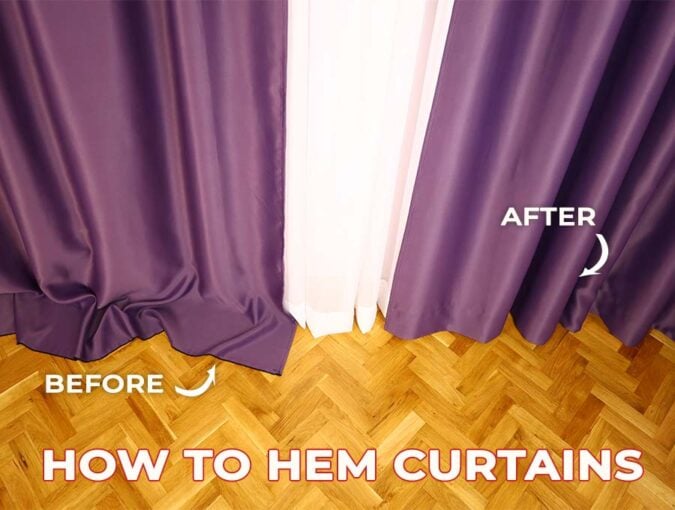 To mark the trimming sides, place your drop cloth on the large flat surface that allows you to draw straight lines. You can place it on the clean floor or do it on the table.
Mark the lines on the sides where you need to cut the excess cloth and hem the edges.
A good rule of thumb is to cut at the final dimensions plus 1″. Then, you will be able to fold over and hem the cut size with the hemming tape.
Now, you can apply the hemming tape to the whole length of the cut side. Place hem tape right along the edge to make the hemline straighter.
To fix the hem tape, take the hem tape's backing away. Then, fold the edge over. Iron the edges to fix an adhesive hem tape in place.
You can use a sewing machine if you prefer. However, if you opt for a fully no-sew project, opt for a hem tape instead. It is absolutely available and cheap and doesn't require any additional cost for your DIY project.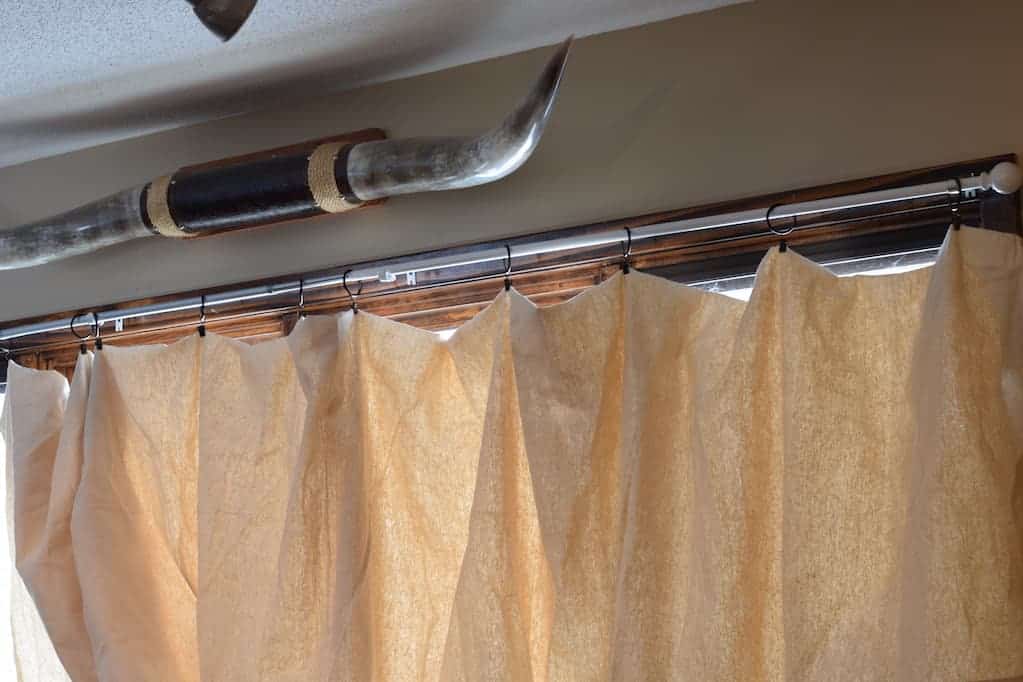 4. Hang drop cloth curtains
The easiest way to hang the drop-cloth curtains is to use ring clips. Just don't forget, you should place the clips on the curtain rods before fixing them.
Place one of the drapery clips on the top edge of one drop cloth curtain. Then, do the same on the opposite edge. For the best effect, hang the curtain with one more clip in the middle of it.
Now, proceed with clipping evenly the whole width of the curtain.
If you look for more fancy decisions for your DIY project, you can pinch the fabric and create a nice pleat. This is an alternative to simply clip your curtains.
To make a stylish upper valance, you can simply fold your curtain when clipping it to the curtain rod. To see this fold clearly, iron or pin it before hanging.
A few farmhouse-style tips
If you want to give more of a cozy farmhouse style to your house, we will have some simple tips for you.
Make the curtains longer
When measuring the length of your curtains, make them 12-16″ longer than they need to be. As you will hang such long curtains, you will adjust them to the proper length.
Your curtains will definitely look much cozier if you make a fluffy valance at the top. Moreover, you simplify the task of cutting down the length of your drop cloth curtains by just folding the exact ones.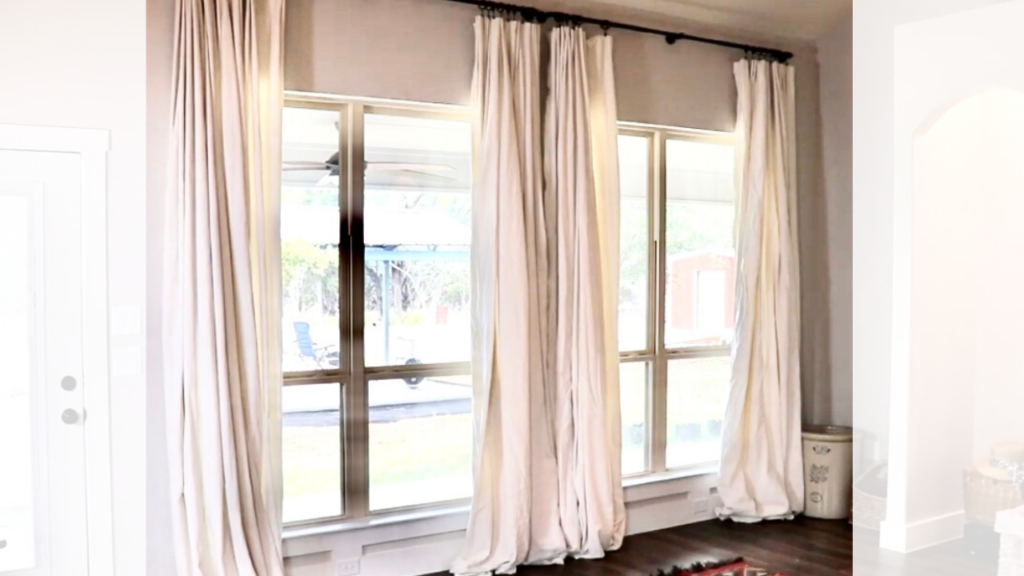 How to do it?
To hang these curtains, just fold them over the top curtain rod to the chosen length. The number of pleats depends on how many clips you take for a curtain.
Where to place?
Of course, having such long curtains on the kitchen window is not practical. However, the other rooms in your house are the best options for this type of curtain.
For the kitchen, a great idea is to make curtains just the height of the window. Keep in mind that you can decorate them with an upper valance as well.
In the dining room or bedroom, these curtains create an extra cozy atmosphere and a nice farmhouse-style look. So, don't hesitate to make your drop cloth curtains long and cozy.
Do you wash drop cloths before making curtains?
A good idea is to wash drop cloths before making curtains. This can help you to figure out if the cloth shrinks.
You can easily wash most canvas drop cloths in the standard washer. Set up a gentle cycle to wash the canvas drop cloth. Then, dry it in a delicate setting in the dryer.
Some drop cloths can have a plastic lining on the inside. This is made to give them some extra longevity. In this case, it is better to use a cold setting on the washer. Don't place such a fabric in the dryer, just let it air dry instead.
Why do you need to soften a drop cloth?
Softening is sometimes essential for canvas drop cloths if their texture is too tough.
A great idea is to soften drop cloths in these simple steps:
1. Soak the drop cloths in bleach, hot water, and hydrogen peroxide mixture. Leave it for a few hours.
The best recipe is 2 cups bleach with a 1:10 hydrogen peroxide to water ratio.
2. Hot-wash the drop cloths with a laundry detergent. Then, dry your drop cloths.
3. Iron drop cloths after they dry. If you hate ironing, just leave them dry out.
Can you see through drop cloth curtains?
In fact, drop cloth curtains can block light. So, you can't see clearly through the fabric. However, you can't say they are blackout curtains. The main idea of the drop cloth curtains is to make a cozy, farmhouse-style look in your house.
You can use the drop cloth curtains to block light instead of the super cheap panels. They do this work much better.
However, if you want them to be blackout curtains, hang a blackout panel behind them or clip some black fabric on the back of the panels.
If you want more light in your room, you can just take this extra cloth or panel away.
Are drop cloth curtains heavy?
The drop cloths for curtains should look simple and cozy. No extra weight and luxurious look, no aristocratic style.
The best choice among drop cloths for making curtains is to use cotton fabric. It is not heavy and looks organically in your interior style.
What about no hemming?
Yes, we have one more life hack if you don't want to have a big deal of hemming work.
Look at your drop cloths. Many of them already have some pre-hemmed sizes when you buy them. So, this is a good clue for you, isn't it?
Try to use as many of these pre-hemmed sides of your drop cloth as it is possible. This can help you to save the lot of time that you need for the hemming work.
How many panels do you need for a window?
Despite that we recommend making two panels of drop cloth curtains, you can make just one of them.
Make one big panel that can cover all the window dimensions. If you buy the drop cloth of the right size, you don't even need to cut and hem anything! Just fold it on the top side and create a nice valance.
To open this mono-curtain, just pull it to the side of your window. It is half-easier to deal with it in any sense. Moreover, you need fewer clips to hang it on.
What colors are better to choose?
As you are looking for a farmhouse design in your home, opt for the neutral vibes. The right drop cloth curtains are usually soft white, pale grayish, or ivory.
Avoid bright and tinkering patterns, as they can easily make your interior look tasteless.
Keep in mind that using 100% cotton drop cloth curtains is good for a bleaching option. You can do it if you prefer to discolor the existing drop clothes.
To bleach or not to bleach?
If you wish to have the drop cloth curtains of softer tones, then you can bleach them.
On the one hand, this is a good way to discolor the existing tone if you wish.
On the other hand, you can create a blended color pattern. For example, for the grain sack tone, you need to blend between a dark beige and a bright white tone of your curtains.
To reach the blend effect, just bleach the cloth for about 3-4 hours. Don't keep it longer as it will be discolored for the uncertain dull effect. Then, you will need to keep bleaching to the soft white color.
Make sure you bleach all the way to make an even effect on the whole cloth.
However, don't bleach your drop cloths for more than 8 hours so as not to destroy the fabric's fibers.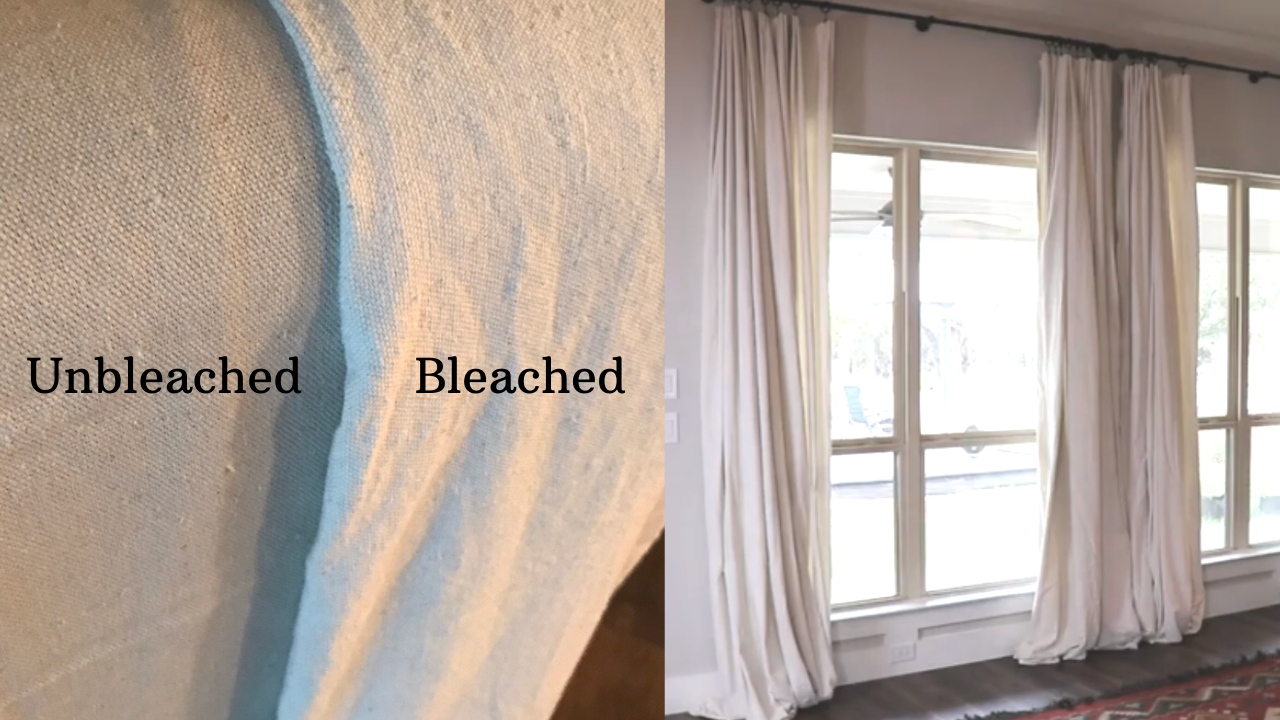 How to bleach the drop cloth curtains?
You need to fully soak the chosen cloth in bleach.
So, fill the top-loading washing machine with hot water on the maximum load setting.
While the washer is filling, add about 3-4 cups of bleach. Then, close the lid and pause the cycle.
Add your cloths to the washing machine and close the lid.
Let your machine agitate and fully submerge the cloth. Then, pause the cycle.
Close the lid and let the cloth sit for about 6 hours until it is fully and evenly white.
Remember that you can't soak the cloth for more than 8 hours or else you can damage it.
Final thoughts
As you can see, this no-sew project is quite easy and cheap. So, don't hesitate and try to create your own farmhouse curtains to make your own home look stylish, unique, and cozy.
Read this article to learn How to make No-Sew DIY Drop Cloth Curtains in 2 ways.